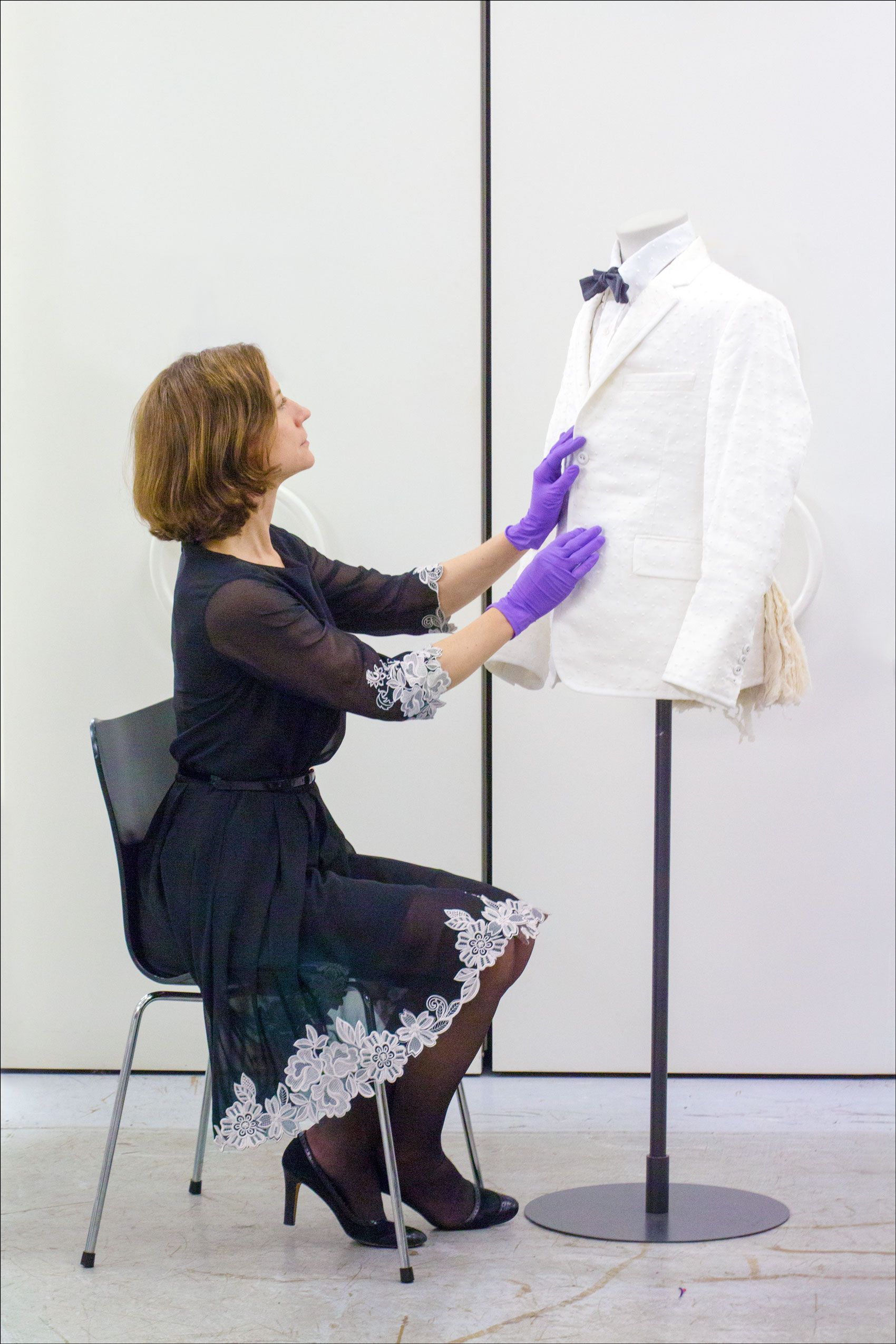 Sonnet Stanfill
Sonnet Stanfill
Object : A suit designed by Thom Browne in 2007 made of sheer point d'esprit white cotton
Occupation: Fashion Curator at the Victorian & Albert Museum
Location: V&A fashion store room, London. Since this photograph was taken, the V&A's world-renowned fashion collection moved to an off-site location. But the first 15 years of my career the 20th century collection was stored in this location, called North Court Store. I spent many hours in this room, which was filled with row upon row of drawers and enormous rolling racks of hanging storage filled with treasures. I knew the space so well that I used to be able to locate a garment or accessory almost with my eyes closed!
In 2007 I curated an exhibition a the V&A titled "New York Fashion Now" featuring a group of designers who had started their careers around the turn of the millennium. Thom Brown was one of the designers and he donated this ensemble to the V&A after the exhibition closed.
This was the first exhibition that I conceived and proposed for the Museum and I curated it on a slim budget and little resources, taking on many of the aspects of design and installation on my own. I had a marvelous time working on it and was immensely proud of the final result. Being an American in London, I was so pleased to be able to focus attention on these young entrepreneurs who had taken risks and started design companies. Thom was an early supporter of the project, and a clear talent even then. The suit was a fantastic acquisition and I was so pleased that Thom agreed to donate it. It's a wonderful example of his unorthodox approach. Sheer point d'esprit cotton trousers and shirt, a detachable bustle and affixed to the back hem of the jacket, even a special set of underpants to wear with the ensemble. The effect is theatrical and yet beautifully made.
I admire people with a strong point of view. Brown has always offered men who seek a different manner of self presentation a stylish wardrobe alternative. From the beginning, Browne wore his own designs, and excelled at promoting them this way. He remains his own best model. Of his aims for his fashion business, he said, "My biggest hope is that young guys getback into the whole suit thing."