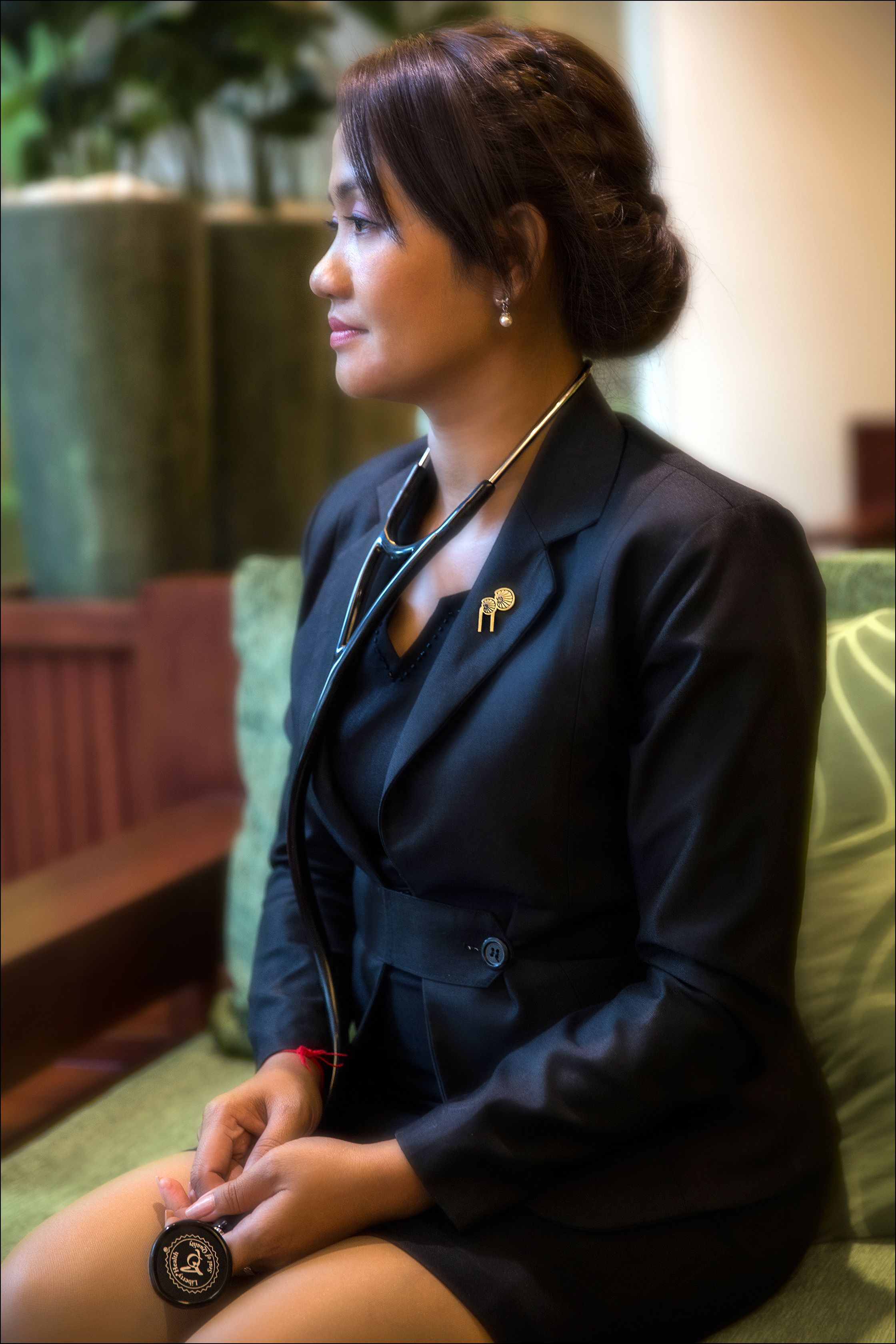 Liem Sokunthea. "Jenny"
Liem Sokunthea. "Jenny"
Object: Stethoscope
Occupation: Assistant Resident Host Manager
Age: 33 years old
Location: Borei Angkor Hotel's VIP room in Siem Reap, Cambodia
Jenny had a very hard early life. When she was three days old her father either died or left her mother for another woman. Her mother said he died. Her father was a doctor. She has never been able to find him. Her mother hired a woman to take Jenny and raise her. She was very ill as a child with dengue fever. At the hospital she could see that doctors were respected. They gave her a toy stethoscope. She was just about ten years old. This is when she decided she wanted to be a doctor, she wanted to help people. When she was about twelve her mother her took her back into her care but since there was no one to take care of her at home she took her to work with her. Her Mother was a nurse. Again, Jenny saw what a nurse and doctor can do to help people. Although she could not become a real doctor she never lost her interest in helping people. Now she helps her staff. They come with her with problems and she listens and asks questions. Did they get enough sleep. Did they eat today? Have they a stomach ache or is it cramps? She tells them to drink more water if she thinks they are dehydrated. She listens carefully and remembers when she goes to the doctor herself so she can help others. She was married for seven years to a bad man who took her money and did not help with the two children he gave to her, not even to buy milk. Finally she said they must part forever. He moved home to Burma and they divorced. She had had enough. Because she has a good job her friends tried to introduce her to men but she was not interested. Finally she prayed about it and she said she needed no more bad men in her life and to show her the way. Now she is with an older man who loves her. He is 55. She still has her stethoscope. She uses it on her children to listen to their heart, takes their pulse, listen to their lungs.